It's September and that means Winter weather outlook forecasts are beginning to make their appearance! If you watch social media or the news at all, you've probably already heard many people – especially across the Midwest and high plains – bemoan the fact that this is going to be a "terrible winter" with "above average snowfall." Well… not so fast… let's find out what the scientists and meteorologists are really forecasting.
The National Oceanic & Atmospheric Association (NOAA) released a report Sept. 4 based on their findings and observations of recent sea-surface temperatures. The report says that the chance of El Niño is at 60-65% during the Northern Hemisphere fall and winter.
At this time, the consensus of forecasters expects El Niño to emerge during September-October and to peak at weak strength during the late fall and early winter. –CLIMATE PREDICTION CENTER and the International Research Institute for Climate and Society
You'll be hearing the terms El Niño a lot in the coming months and in case you have only a vague idea of what that means for global weather patterns, here's a simple explanation.
What is El Niño & La Niña?
"El Niño" is the name scientists have given to the episodic warming of the equatorial Pacific Ocean. This ocean warming—which recurs irregularly every 3-7 years or so—leads to major shifts in atmospheric circulation over the Pacific Ocean and has a profound effect upon global weather patterns.
When these waters are cooler than average, it is known as La Nina. When the waters are near average, the condition is considered to be a neutral phase.
Essentially, surface water temperatures over such a large body of water have a profound effect on weather patterns around the globe, by causing a shift in the strength and position of the storm tracks around the Earth.
How El Niño and La Niña work
Does an El Niño winter mean more snow?
The NOAA has said there's a 60-65% chance of an El Nino effect to develop September-November. Does that mean the entire Midwest will get DUMPED on with snow this Winter? Not necessarily. There is more to a snowfall forecast for a winter season than just the presence of an El Niño or La Niña.
The strength of an El Niño or La Niña, along with the interplay of other oscillations must also be considered.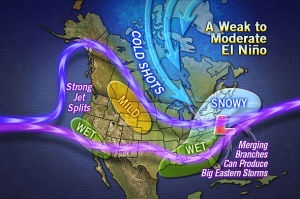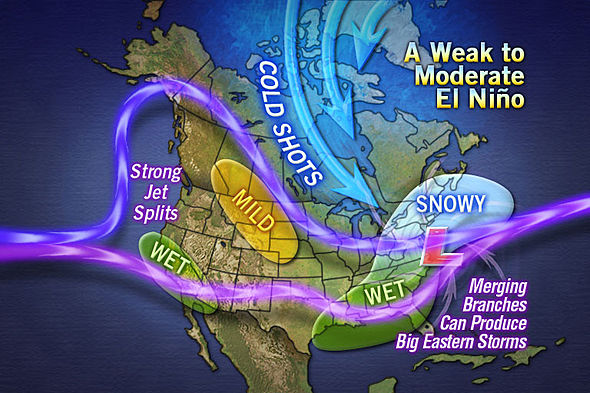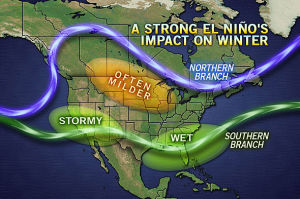 During a weak El Niño, there is generally a balance between southern warmth and northern chill, resulting in ample energy and moisture for storms. During a strong El Niño, the storm track sets up in such a way to allow warm air to overwhelm the Midwest and Northeast; therefore, storms tend to favor rain rather than snow.
What is the long-range forecast for this Winter in the Midwest?
Let's get our info straight from the Climate Prediction Center. We've broken it down into the chunks that are relevant for our branch service areas below:
A MAJORITY OF DYNAMICAL AND STATISTICAL MODEL PREDICTIONS OF EAST-CENTRAL EQUATORIAL PACIFIC SEA SURFACE TEMPERATURES (SSTS) FAVOR A WEAK EL NINO, PEAKING DURING THE LATE AUTUMN AND EARLY WINTER IN THE NORTHERN HEMISPHERE.
THE TEMPERATURE OUTLOOK FOR SEPTEMBER-OCTOBER-NOVEMBER (SON) 2014 INDICATES ELEVATED ODDS OF ABOVE-NORMAL MEAN TEMPERATURES ACROSS THE WESTERN CONUS, THE ATLANTIC COAST STATES AS FAR SOUTH AS NORTHERN FLORIDA, AND MOST OF ALASKA. BELOW-NORMAL MEAN TEMPERATURES ARE FAVORED FROM CENTRAL PORTIONS OF THE GREAT PLAINS SOUTHWEST INTO CENTRAL NEW MEXICO.

In a nut shell: Above-median precipitation amounts are forecast for the central and Southern Rockies, the Central and Southern Great Plains, and Western portions of the middle and lower Mississippi Valley.
This is no guarantee of precipitation amounts or if it will be all snow – but a weak El Nino is definitely trending and it looks like the temperatures will favor more snowfall than average.
As for this Fall, Accuweather.com's Lead Long-Range Forecaster Paul Pastelok is saying the trend for the northern Plains and northeastern Rockies will sway more winterlike, as early snow and cold air blast the area this fall.
"There could be a significant shot of chilly air that comes across the Great Lakes region and into the interior Northeast sometime in mid- to late-September…. October could be a month of snow and cold weather across the northern Plains and in parts of the northeast Rockies," Pastelok said.

"As the cold grips areas from the Colorado Rockies to the Sierra, the cold may even expand southward into the central Plains and portions of the Midwest, including Chicago and Milwaukee and Green Bay, Wisconsin."
The next NOAA discussion of the El Nino Southern Oscillation (ENSO) is scheduled for October 9, 2014, so look for updates from us around that time.